Former Australian Special Ops military sniper Damien Mander who trained Zimbabwe's "Brave Ones" says women will change the face of conservation forever.
Disadvantaged women have become Zimbabwe's weapon against poachers who harm elephants and rhinos for their tusks and horns, according to CBS News.
The Akashinga squad, Zimbabwe's first all-female anti-poaching unit, have earned a reputation as top sharpshooters. Akashinga means "Brave Ones" and in the past year the team has arrested more than 80 armed poachers, many of whom pose as much of a threat to human life as they do to wildlife. According to Save the Rhino at least a thousand rangers have died in the line of duty in a decade, with many more unreported casualties.
Recruited by former Australian Special Ops military sniper Damien Mander, many of the women come from backgrounds where extreme poverty and domestic violence are rife.
Mander initially had misgivings about leading an all-female squad of soldiers.
"I have built a career across three continents by bringing hardened men to the point of breaking and then rebuilding them into what we need on the front lines, and women never factored into the equation. We not only prided ourselves on being all-male units in the military but we ridiculed units that transitioned into accepting females.
"The whole time it was just us fighting against our egos," he said. "It's a male mindset, you're looking for a fight. Women actually want to solve a problem and have a conversation. It's a big difference."
Mander started training thirty-six women modeled on his special-forces training. "We pushed them hard, much harder than any training we do with men. Only three dropped out. I couldn't believe it."
Vimbai Kumire is a 32-year-old single mother whose husband ran off with a younger woman while she was pregnant with her second child. She says: "This job is not meant just for men, but for everyone who is fit and strong."
Women's empowerment is at the core of the programme
Victor Muposhi, a conservation biologist at Chinhoyi University of Technology in Zimbabwe told The Guardian, the lower Zambezi Valley has lost 11 000 elephants in the past 10 years. He believes that hiring and training female rangers such as Kumire directly from the local communities is a game-changer.
"Developing conservation skills in communities creates more than just jobs," says Professor Muposhi. "It makes local people directly benefit from the preservation of wildlife." He says it can save not only landmark species such as elephants but entire ecosystems.
"This is true empowerment because you are dealing with a highly vulnerable and damaged group of young ladies."
Women will change the face of conservation forever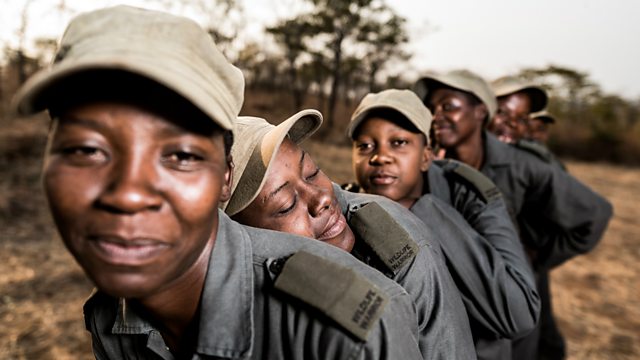 "I think women, given the opportunity, will change the face of conservation forever. I think we have seriously under-estimated one of the most powerful forces in nature."
Mander is aware of the symbolic significance of maternal women fighting for mother nature.
SA's Black Mambas
Mander was inspired by the story of the Black Mambas, the world's first majority female, unarmed anti-poaching unit that patrols the Kruger National Park's western boundary.
Having met some of the Mambas on a fundraising trip to New York, where they were giving a talk, he saw the international support and interest they received and thought a similar project in Zimbabwe might be a good way to raise the profile of his own project, the International Anti-Poaching Foundation (IAPF).
The 33 Black Mambas look for signs of poachers entering the park. They don't have military backgrounds or training, and are mainly women from villages close to the Kruger National Park's western boundary.
They patrol the fence-line of the Balule Nature Reserve, which is part of the Greater Kruger National Park looking for incursions like tracks that shouldn't be there, a cut in the fence, suspicious markers or anything else that might indicate that there are poachers about. If they spot something suspicious, they report it to headquarters and then a much larger operation involving dogs, trackers, air support and armed men kicks in.
The Black Mambas provide a visible presence, but they also help their communities to understand that the benefits of conservation outweigh the benefits of poaching.