Gemstone countertops are the next home interior craze! Would you ever have one? 
Every home based cooking lover knows that quality counter-tops are essential to a well-functioning kitchen. However, counter-tops tend to be a very boring business with most people preferring solid and dreary counters made from materials such as granite. However, the new craze for kitchen counter-tops is anything but boring with interior design enthusiasts crafting new counter-tops out of gemstones.
One of the most popular materials in this new trend is amethyst which has been used to cover the kitchen counter-tops of some trendsetting enthusiasts. Amethyst is known for its incredible crystal quality which lends it extraordinary durability making it a solid choice for workshop counters. It is also incredibly beautiful and shines with a distinct purple color which catches the light lending a wondrous shimmer to anyone's kitchen.
And no, they don't have to be made from a single slab. You can work with resin and pieces to create your own works of art from scratch!
Or you can just add a single crystal as a feature, like this!
White Quartz Countertops Countertop Reformed Stone
Perhaps less gaudy than these two ostentatious choices is quartz which has also been used to add a subtle glimmer to some kitchens recently. Because quartz is colorless, it can be combined with almost any existing kitchen design to lend it a discreet but impressive sheen. As well as being strong and durable quartz counter-tops are also wipe clean and heat resistant making them ideal in a kitchen setting.
Labradorite
Another favored gemstone brightening up kitchen counters is labradorite, a sophisticated and stunning peacock blue gemstone which is known for its enhanced durability and resistance to heat.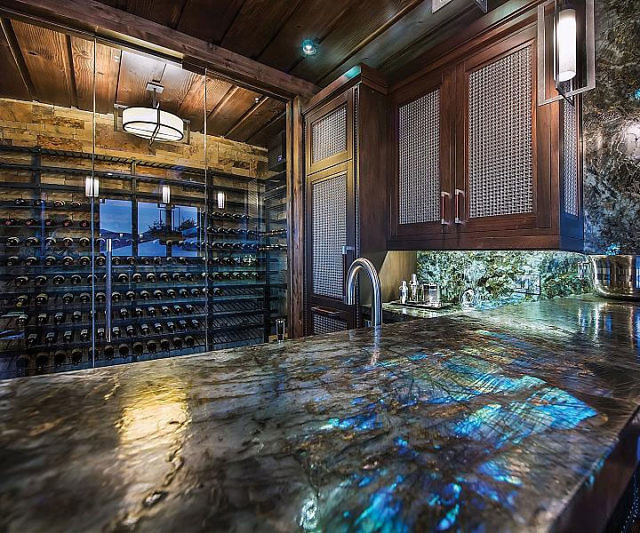 Here is one made from dyed agate slices laid in resin.
Some people who perhaps don't care for adorning their kitchens with gemstones have turned to something more surprising but no less beautiful when it comes to class up their kitchen counter-tops – petrified trees. The fossilized remains of trees, some of which are as old as 200 million years, have been purchased and transformed into spectacularly beautiful and incredibly hard-wearing counter-tops among some innovative home owners.
It is often said that creating a beautiful environment in the home is essential to promoting well-being and happiness in the domestic setting. If this is the case, then the owners of these beautiful counter-tops must be experiencing a very happy home life.
Written by Lara [email protected]