Maarten van der Weijden known for his unbelievable long distance swimming, just accomplished a mind blowing achievement.
Last year the first edition took place but Maarten did not manage to successfully complete the 11 city journey. He fell ill during his second swimming day after laying 55 hours in the water. This year however, he triumphed.
Maarten van der Weijden started the second edition of the Eleven Cities Swimming Tour in Leeuwarden on Friday. The tour was 195 kilometers long and he finished at 7:30 PM on Monday (Dutch time).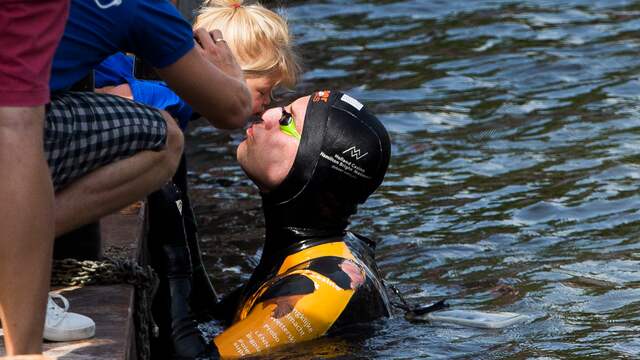 nu.nl
(Van der Weijden gets a good luck kiss from his daughter as he starts his journey)
This sensational achievement was all done to raise money for the cancer foundation.
At only 19 years old Maarten was diagnosed with cancer
Image credits: beter.nu
But the resilient swimmer beat cancer and 7 years later he became a gold medalist at the Olympic Games in 2008 Beijing