Comedian Tommy Ryman said he had "bizarrely supportive" parents growing up and a sister who was his biggest fan.
"It was nice to be supported. Nobody was like, 'You can't do it,'" Ryman said. "I didn't have to prove anybody wrong. I love stand-up, so I just kept doing it and I write constantly. I said I would stop doing it when it's not fun … I'm going to keep doing it."
Ryman, who had national recognition as a semi-finalist on NBC's "Last Comic Standing," appears regularly at the Comedy and Magic Club in Hermosa Beach, not far from his Redondo Beach home. He also recently released his sophomore album, "Having the Time of My Life," on Stand Up! Records, which covers everything from his "hippie" mom to his pet hedgehog Phylis.
When Ryman first performed stand-up he would mostly do one-liners, but he has evolved into more of a storyteller over the years.
"I like longer form and doing a story that's got a lot of jokes within it … my album, you can listen to it individually, but it's best listening to the whole thing because it does call back throughout," Ryman said. "When I do an hour I like to have it connected."
With a folksinging mother and an insurance salesman father, Ryman, 35, had a fairly normal childhood besides the fact his parents got divorced when he was young. He was majoring in theater at the University of Minnesota when his sister Annie encouraged him to perform at a comedy club open mic.
"I gave it a shot and fell in love with it," Ryman said.
Ryman said he learned to craft a joke by listening to St. Paul native Mitch Hedberg. At the Acme Comedy Company in Minneapolis, which was fashioned after the Comedy and Magic Club, Ryman said, he worked his way up from open mic performer to featured comedian.
Around 2008, he hit the road and started branching out, but he also held a part-time job at Barnes & Noble bookstore to supplement his income. He worked at the bookstore, where he met his future wife Megan, Sunday, Monday and Tuesday, which allowed him to book gigs the rest of the week.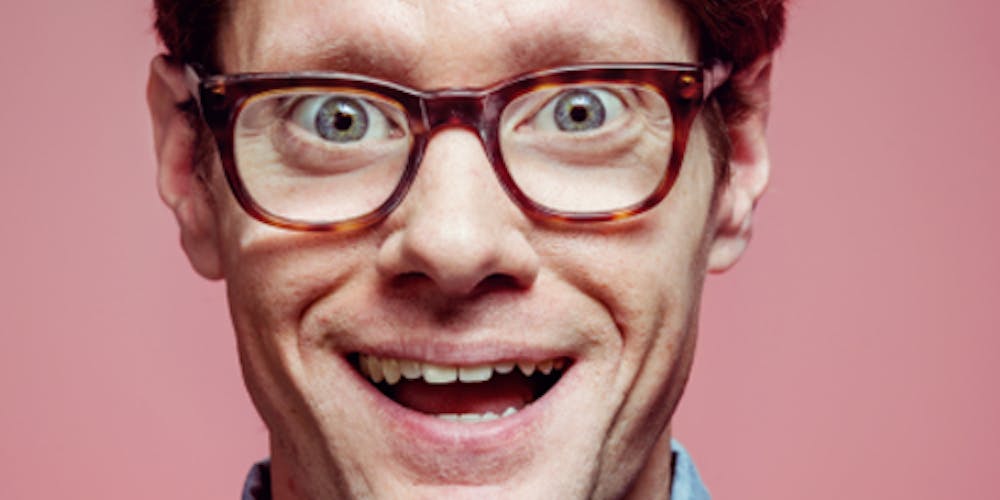 Ryman's career received a boost when he was emailed by producers of "Last Comic Standing" to tryout for the 2014 season. He was flown out to California to audition for the show and eventually made to the top 100 and onto the televised show. He had a strong run on the show, making a fan of Roseanne Barr, but he was kicked off after reaching the top 20.
Ryman said the experience was like "summer camp." When the contestants were eliminated, they had a psychologist available.
"I was like, 'This was a blast,'" Ryman told the psychologist. "I was there to have fun … moving on was exciting to me. I was bummed, but I was extremely happy how it went."
Ryman, who also has a stand-up album with his mother, "Tommy and his Mommy," recorded "Having the Time of My Life" at the Acme Comedy Company before Donald Trump took office. The album, and his current material, sticks mostly to biographical material, but politics does play a part.
"Now I have a few political jokes, it's almost unavoidable, but I've never been a political comic," he said. "I mostly like to have fun and tell stories."
For more information, visit tommyryman.com.
Via TBRN